As of May 28, 2010, we have updated our system so that our clients can access their account online. This is more efficient for everyone.
Account Managment »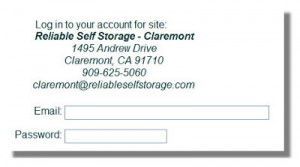 Here's what you can do online:
● Access your personal storage account
● Make a Payment
● Set up your account for auto payment
● mail the site manager
●View your payment history
● Reserve a storage unit
● Read about storage tips and tools
We hope this new service will make your storage experience a pleasant one.
We offer the use of our moving truck, for move-in only. The use is totally free and we even pay for the fuel. Some restrictions may apply. Ask the Manager.
Reliable Self Storage, located at 1495 N. Andrew Drive, is the most progressive storage facility in the region. Our security system is unmatched. Our service is impeccable.